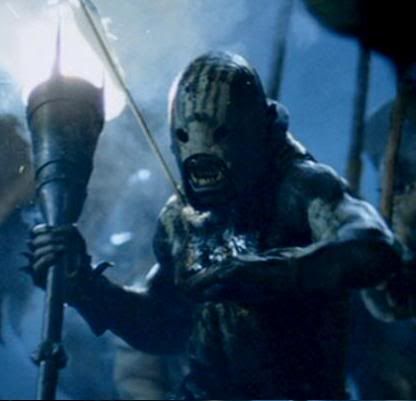 See what I did there?
As most of you who are coming to Blog Wars 3 will know. The first two tournaments were won by none other than Venerable Brother from the Sons of Sanguinius blog (also known as Andy). Now I put this down to 3 things (in descending order of importance):
He brings competitive tournament lists to a tournament with a lot of fluffy lists (shame on him!)
He gets drawn against the right lists for his army (jammy get!)
He's not that bad a player actually (that's as generous as I'm willing to get Andy!)
Joking aside, it's very difficult to organise a 40K tournament to be purely friendly. Short of severely restricting army selection to the point where no-one will show up, you can't really make everyone bring something fluffy. Not to mention it's a tournament after all so therefore there are prizes and hence there has to be some competition. What you tend to find is that after round one the big boys go off and play on the top tables and look all serious whilst the rest of us enjoy ourselves in relaxed games at the bottom end. The problem is that first game where some poor bastard (i.e. yours truly) finds himself up against a list he hasn't a hope in hell of dealing with his "fun" list.
So with half of the field bringing something a little different that they wouldn't dare show up at other tournaments with that's already an easy ride for some of the top players. This wouldn't be a problem but for the fact that we can't let the bastard win again (as Atreides from SoS so ably put it). Funnily enough, Andy shares this viewpoint and as such he's published
an article on how to beat his Necron list
. Now frankly my army relies heavily on a few lucky rolls so I can't hope to think much about actual tactics but for the rest of you it wouldn't hurt to go have a read of his article so that we can give him something to think about at least!
Now I know what you're thinking (and to a small extent so am I), "who does this guy think he is? He's not only convinced he's going to win again but now he's got the stones to tell us how to beat him to make it more of a challenge!". Andy, of course, protests this but as I say, head over to Sons and read for yourselves. For those of you who read this blog and aren't going to Blog Wars 3 it's still a decent article on how to beat those pesky Necrons.
After Matt gave up using Necrons and sold them all off I've actually been thinking about getting some. Not only are they pretty cheap to buy but also they don't exactly take much painting to get them to table-top standard. Not to mention they've got some really nice models. It's just a shame I didn't think to offer to buy Matt's from him! Mind you, my current plan is to wait and see what 6th edition brings before I invest in many more models.